Find us on FACEBOOK by using the link @DoverYouthTheatre or click here.
Please be advised that the 2017 AGM is planned for Wednesday 22nd March 2017 at 7:30 p.m. (1930 hrs) at No.8 Harold Street.
The AGM is open to all members of DYT, which includes parents / guardians of pupils.
We are always in need of people to join the DYT Committee, so please come along.
The AGM is followed by the regular committee meeting.
As part of development of new talent we are continuing with referring students, who want to participate, to the Spotlight Agency. The venture is managed by committee member Nadine Lawson.
Fees for 2016 (reviewed annually at AGM)
The fees were increased from the Summer Term to:
£65 for a single discipline (either Drama or Dance)
£120 for two disciplines (Drama and Dance taken together)
NOTICES.
This term is 10 January 2017 to 28 March 2017 (less half-term break on 14 Feb). The end-of-term / parent open evening is on Tuesday 28 March. Please come and see DYT in action, participation is voluntary.
Next term starts Tuesday 25 April (tbc) and ends 11 July (Performance Night), stood down on the half-term week...
With Thanks to the Royal Marines Club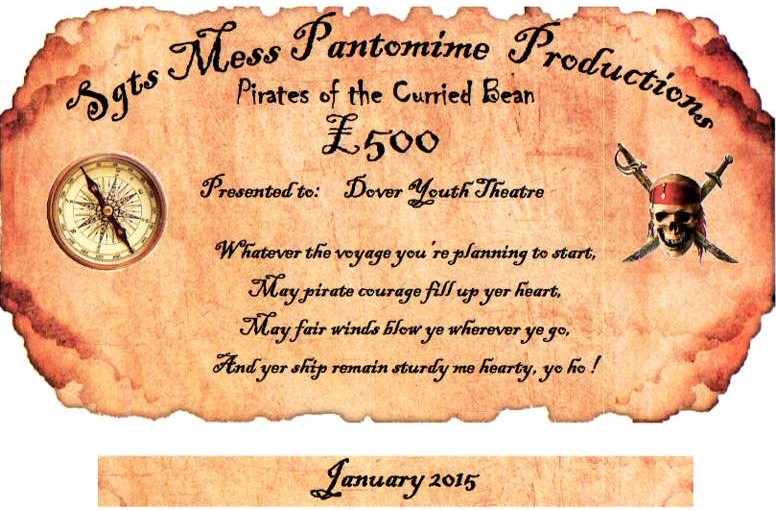 Sgts Mess Pantp 2015
Update as at 26 October 2016
Dover Youth Theatre Facebook page continues to be well used as the place to find all the latest news about performances, rehearsal schedules (and important changes) and many of the latest photographs. So if you would like to keep up with the latest news then please become a friend of DYT.

Welcome to the Home Page for the Dover Youth Theatre (DYT). This site is by way of an introduction not just to DYT and those we support but also to all those kind people who help us to help others. We will try and make it interesting as possible and we'd welcome any advice and comment.

My standing plea remains, that if we can expand the site (now 6+ years old) then that is something I would like to do. Ideas please for links to other sites, DYT members' blogs, etc, details of our supporters.

YouTube:
DYT Video Clips for "Theatre in the Cloud" 2014 = Click Here
Site Design by John Wiggell using Fasthosts/SiteBuilder.
Established 8th August 2008.
The average number of hits over 8 years is slightly up to 70 per month and the use of Facebook continues to steadily grow.
Dance & Drama for the young people of Dover...